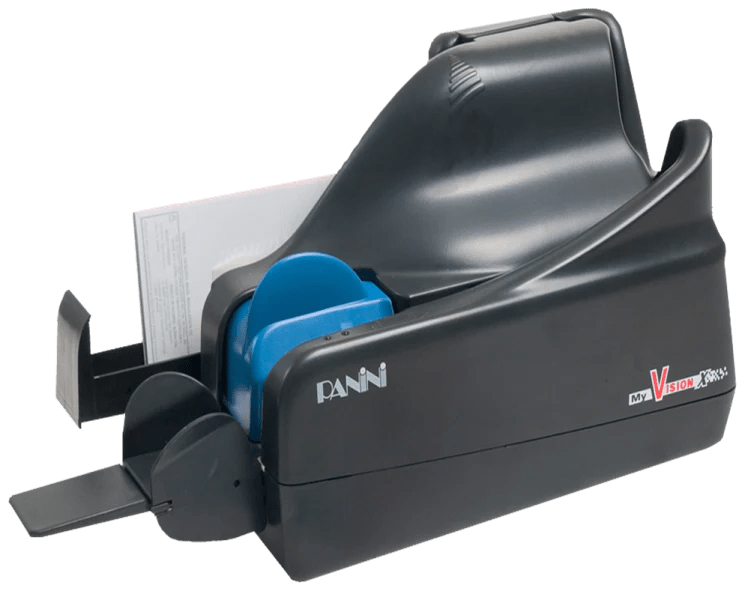 Panini VX50-1-SF-IJ Check Scanner
VX50.1.SF.IJ
---
Free Shipping Orders Over $1000
In stock, ready to ship

Inventory on the way
Discover seamless check processing with the Panini VX50-1-SF-IJ Check Scanner. This high-performance device offers remarkable speed and accuracy, processing up to 50 checks per minute. Its integrated inkjet technology ensures clear, readable prints on every check, enhancing your operations' accuracy and efficiency.
Despite its compact design, the Panini VX50-1-SF-IJ doesn't compromise on performance, making it a perfect fit for any high-volume environment. With its compatibility with most check software applications, this device is a convenient addition to your business processing needs.
Key Features:
High-Speed Scanning: Processes up to 50 checks per minute, optimizing time efficiency.
Integrated Inkjet: For clear, accurate printing on each check.
Compact Design: A space-saving solution without compromising on performance.
Software Compatibility: Ensures seamless integration with most check processing software.
Reliable Performance: Delivers consistent, high-quality scanning, making it ideal for high-volume settings.
We understand that you're excited to receive your new purchase! That's why we make every effort to process your order swiftly.
Next-Business-Day Processing: Place your order with confidence knowing we will process and dispatch it by the next business day.
3-4 Business Days Turnaround Time: Once dispatched, your order will be on its way to you within 3-4 business days.
Shipping Confirmation & Tracking: After your order is dispatched, you will receive a shipping confirmation email with a tracking number, enabling you to follow your package as it travels to your doorstep.
Note: During peak seasons, holidays, or promotional periods, there may be slight delays in processing and shipping times. We appreciate your patience and understanding during these times.
Contact Us: Should you have any queries or concerns regarding your shipment, please do not hesitate to contact our customer service team at support@allstarterminals.com