Everything You Need to Know About the PAX S300 Pinpad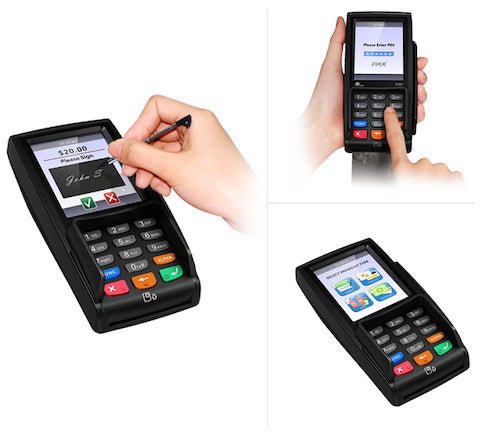 Introduction
In the world of merchant services and payment processing, selecting the right pinpad is crucial for a seamless transaction experience. As an ISO or an independent sales organization, understanding the latest advancements in the industry can greatly benefit your clients. One such product that has captured the attention of businesses is the PAX S300 pinpad. In this blog, we'll delve into its features, benefits, and why it's becoming a popular choice in the payment processing industry.
Overview of the PAX S300 Pinpad
The PAX S300 is a state-of-the-art pinpad designed to offer fast, secure, and reliable payment processing for merchants. Boasting a sleek and user-friendly design, this compact device is perfect for businesses looking for a cutting-edge solution for their card-present transactions.
Key Features
Contactless Payments: The PAX S300 supports a variety of contactless payment options, such as NFC (Near Field Communication) and EMV (Europay, Mastercard, and Visa) chip cards. This enables merchants to accommodate the growing preference for contactless transactions among customers, providing a faster and more convenient experience.

High Security Standards: The PAX S300 is compliant with the latest security standards, including PCI PTS 5.x, ensuring the highest level of protection for sensitive customer data during transactions. Its built-in encryption and tokenization capabilities help reduce the risk of fraud and safeguard merchants against potential security threats.

Multiple Connectivity Options: The pinpad offers various connectivity options like Ethernet, RS232, and USB, making it compatible with a wide range of point-of-sale (POS) systems. This versatility allows merchants to integrate the PAX S300 seamlessly into their existing infrastructure, eliminating the need for costly upgrades.

Full-color Touchscreen Display: The device features a 3.5-inch full-color touchscreen display, which is easy to read and navigate. This modern interface provides a more intuitive user experience for both merchants and customers, improving the overall transaction process.

Built-in Printer: The PAX S300 includes an integrated thermal printer, which allows merchants to print customer receipts directly from the device. This all-in-one solution saves valuable counter space and reduces the need for additional hardware.
Benefits of Choosing the PAX S300 Pinpad
Enhanced Customer Experience: With its support for contactless payments and a user-friendly interface, the PAX S300 offers an efficient and hassle-free transaction experience for customers. This can help boost customer satisfaction and loyalty, ultimately benefiting the merchant's bottom line.

Improved Security: By adhering to the highest security standards and offering advanced encryption features, the PAX S300 pinpad helps merchants protect their customers' data and maintain a secure payment environment.

Easy Integration: The multiple connectivity options and compatibility with various POS systems make the PAX S300 a simple addition to a merchant's existing setup. This ease of integration can save businesses time and resources when upgrading their payment processing equipment.

Cost-effective Solution: The all-in-one design of the PAX S300, which includes a built-in printer, provides a cost-effective alternative to purchasing separate hardware components. This can help businesses lower their overall investment in payment processing technology.
Conclusion
The PAX S300 pinpad is an excellent choice for businesses seeking a modern, secure, and efficient payment processing solution. Its advanced features and benefits make it an attractive option for merchants looking to enhance their customer experience and streamline their transaction process. As an ISO, offering the PAX S300 to your clients can help you stay ahead in the competitive merchant services industry and provide them with a reliable and cutting-edge payment processing option.
---