Demystifying the BBB: The Backbone of Trust in Business - Featuring Allstar Terminals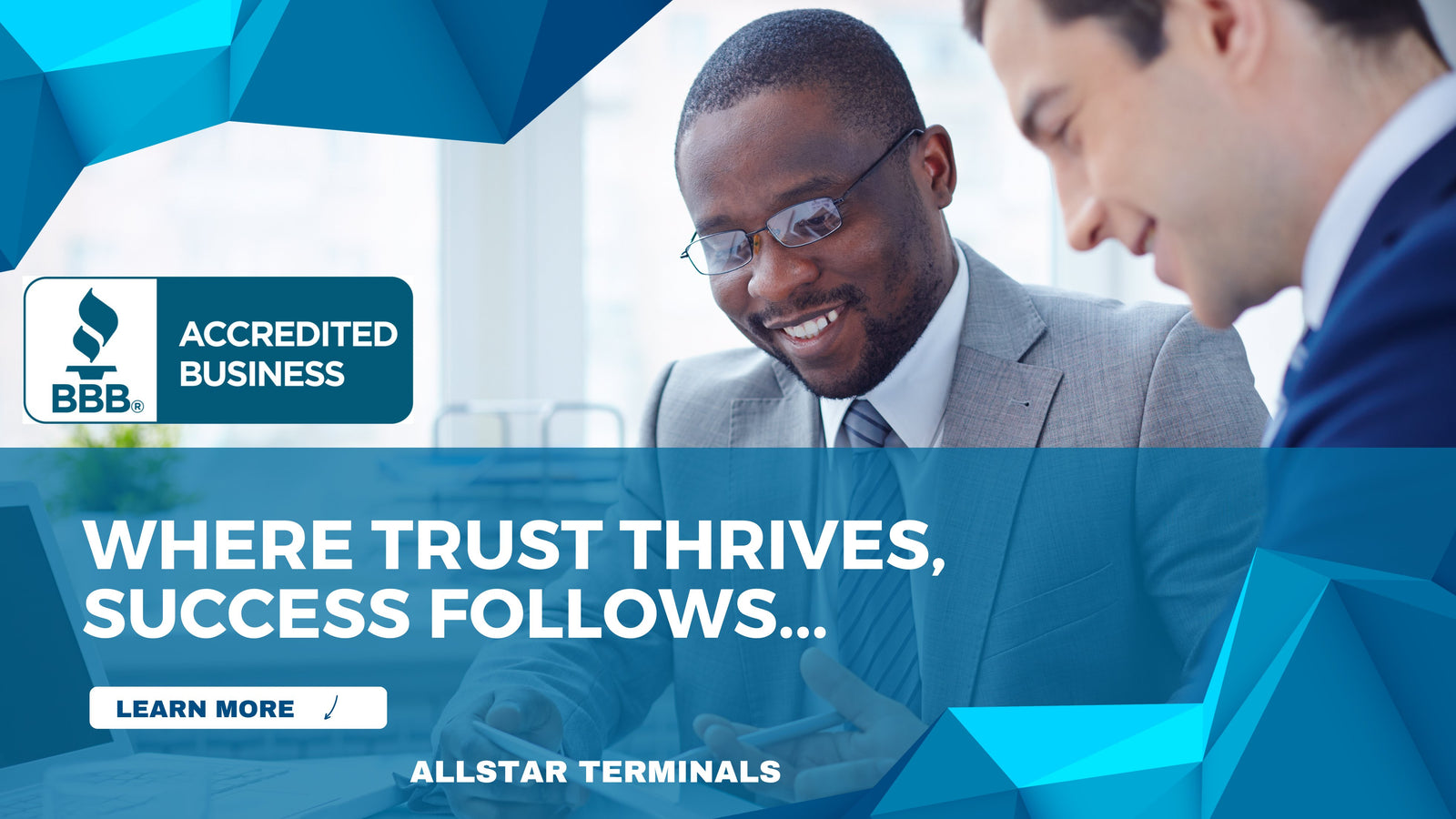 Introduction
In today's interconnected world, trust is a vital factor in choosing a business to work with. One organization that has consistently played a significant role in promoting trust, transparency, and ethical business practices is the Better Business Bureau (BBB). In this blog post, we'll dive into the history, purpose, and significance of the BBB, and highlight how Allstar Terminals, a BBB Accredited Business, upholds these values to ensure consumer confidence.
The Origins of the Better Business Bureau
The BBB traces its roots back to 1912 when a group of advertising executives formed the National Vigilance Committee in the United States. Their mission was to combat misleading advertising and promote truthfulness in business. By 1921, the organization had evolved into the Association of Better Business Bureaus, later becoming the Council of Better Business Bureaus, and eventually adopting its current name: the Better Business Bureau.
What is the BBB?
The Better Business Bureau is a nonprofit organization that operates in the United States, Canada, and Mexico. Its primary goal is to promote ethical business practices, enhance trust and confidence among consumers, and encourage businesses to maintain a positive marketplace reputation.
The BBB achieves its goals by providing the following services:
Business Accreditation: Businesses can apply to become BBB Accredited Businesses by meeting the organization's stringent standards for trust, honesty, transparency, and ethical conduct. These businesses commit to upholding the BBB's Standards for Trust, which include eight principles that guide their daily operations.

Business Reviews: The BBB provides an online platform where consumers can access detailed information about a business, including its BBB rating, accreditation status, customer reviews, and any complaints filed against the company. This information allows consumers to make informed decisions when choosing a business to work with.

Dispute Resolution: The BBB offers mediation and arbitration services to help resolve disputes between consumers and businesses in a timely and efficient manner. These services are provided at no cost to the consumer.

Consumer Education: The BBB creates and distributes educational materials and resources to help consumers make informed decisions and avoid scams.
Allstar Terminals: A BBB Accredited Business
Allstar Terminals, a leader in the logistics and transportation industry, is a proud BBB Accredited Business. By achieving accreditation, Allstar Terminals demonstrates its commitment to the BBB's Standards for Trust, prioritizing honesty, transparency, and ethical conduct in its daily operations. Consumers can trust that when working with Allstar Terminals, they are partnering with a business that values their satisfaction and adheres to the highest standards of professional conduct.
How the BBB Rating System Works
The BBB rating system assigns letter grades (ranging from A+ to F) to businesses based on their adherence to the BBB's Standards for Trust, customer reviews, and complaint history. Factors that can influence a business's rating include:
Time in business
Complaint volume and response
Resolution of complaints
Government actions against the business
Transparency in advertising and business practices
The Importance of the BBB in Today's Marketplace
In an age where consumers have more choices than ever before, the BBB serves as a valuable resource for evaluating businesses and their commitment to customer satisfaction. By using the BBB's services, consumers can make informed decisions and support businesses that prioritize ethical practices and transparency, such as Allstar Terminals.
Conclusion
The Better Business Bureau has been an advocate for ethical business practices and consumer trust for over a century. By offering valuable resources like business reviews, dispute resolution services, and educational materials, the BBB empowers consumers to make informed choices in the marketplace. As a consumer, always consider checking a business's BBB rating and accreditation status before engaging in transactions, to ensure a trustworthy and positive experience. Allstar Terminals stands as an example of a BBB Accredited Business that upholds these values, showcasing the importance of trust and ethical conduct in the modern marketplace. By choosing businesses like Allstar Terminals, consumers can feel confident in their decision and support a thriving, trustworthy business community.
---