Unboxing the PAX M8: First Impressions of the Next-Gen Payment Terminal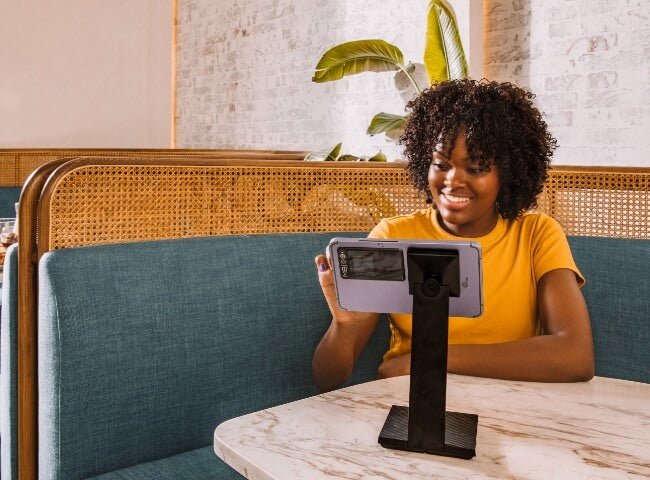 Introducing the new PAX M8 Payment Terminal. This innovative device is poised to redefine the landscape of merchant services, offering businesses an all-in-one solution to streamline their workflow and enhance customer experiences. 

Slim and Stylish Design
With a sleek aluminum body, the PAX M8 has an 8-inch full touch screen display, offering an improved user interface and viewing for diverse sectors like restaurants and fashion retailers. It is tacked with a built-in camera and scanner serving a variety of needs such as barcode scanning, product photography, and more. 
Power-Packed Performance
Underneath its sleek exterior, the PAX M8 is a beast. Powered by Android 11 OS and a Cortex-A53 processor running at 1.8GHz, offering a smooth and speedy operation, ensuring businesses can cater to their customers with exceptional efficiency. The 3.85V, 6300 mAh battery guarantees a long-lasting performance, making it suited for high-volume retail environments. The device has a boasting PCI PTS 6.x. SRED security encapsulates the power of technology. 
Infinite Possibilities
It doesn't just stop there! The PAX M8 is not just a point-of-sale terminal. You have the ability to browse the web, read emails, check social media, make phone calls, take product pictures, and record product videos. Merchant service providers can now expand their offerings and elevate businesses to new heights thanks to the wealth of apps on Google Play and MAXSTORE. 
Cutting-Edge Features
This machine supports 4G, WiFi, and Bluetooth 5.0 connectivity, making it a truly versatile device. Its 8 Mega-pixel and 0.3 Mega-pixel rear cameras, coupled with a 5 Mega-pixel front camera, provide astonishing image capture capabilities. It also includes an integrated Chip & Pin + contactless reader, the device streamlines payment processing, offering a convenient and secure payment solution for customers.
Smart Data Solutions
Lastly, the PAX M8 is more than just a retail terminal; it also carries a smart business assistant. With MAXSTORE's Golnsight service, businesses can effectively capture and analyze sales and financial data. This tool provides valuable insights for business owners to help optimize their operations, make informed decisions, and boost their bottom lines. 
For the retailers on the hunt for innovative solutions that want to stay ahead in a fast-paced world of retail; look no further because the PAX M8 is an exciting development worth exploring. 
---