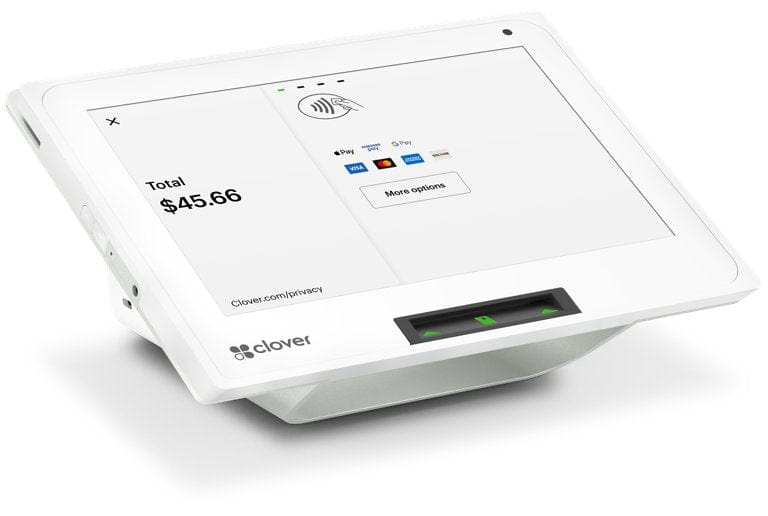 ---
Free Shipping Orders Over $1000
In stock, ready to ship

Inventory on the way
Elevate Your Business with the Clover Mini 3 by Allstar Terminals
In the fast-paced world of commerce, the Clover Mini 3 emerges as a beacon of efficiency, brought to you by Allstar Terminals. This state-of-the-art payment processor is designed to streamline your transactions and enhance customer interactions with its robust features and sleek design.
Powerful Performance: At its core, the Clover Mini 3 is powered by the robust Qualcomm® Snapdragon™ octa-core processor, ensuring lightning-fast operations and responsive customer service.
Cutting-Edge Software: It operates on a hardened version of Android 10.0 (API Level 29), providing a secure, stable, and user-friendly platform that will keep your business ahead of the curve.
Compact and Versatile Design: With dimensions of 8 inches and a sharp 1280×800 resolution, the Mini 3's compact form factor does not compromise on clarity or quality, making it an elegant addition to any counter space.
All-in-One Payment Solution: The Mini 3 boasts an EMV chip card reader, NFC reader, and MSR, ensuring that your business can handle all forms of payment with ease.
Extensive Connectivity: Equipped with two USB host ports, an additional USB port, an RJ12 cash drawer port, Ethernet, Wi-Fi, and 4G/LTE capabilities, the Mini 3 promises seamless connectivity and integration into your existing setup.
Barcode Scanning Capability: A front-facing camera is expertly designed for 1D and 2D barcode scanning, streamlining your checkout process and inventory management.
Built-in Printer and Audio Features: An internal thermal receipt printer adds to the efficiency, while the 3.5-mm audio jack supports both input and output, complemented by a speaker and microphone for clear communication.
With the Clover Mini 3, brought to you by Allstar Terminals, experience the pinnacle of payment processing technology. Make the switch today and propel your business into a future of unmatched transactional ease and customer satisfaction.
We understand that you're excited to receive your new purchase! That's why we make every effort to process your order swiftly.
Next-Business-Day Processing: Place your order with confidence knowing we will process and dispatch it by the next business day.
3-4 Business Days Turnaround Time: Once dispatched, your order will be on its way to you within 3-4 business days.
Shipping Confirmation & Tracking: After your order is dispatched, you will receive a shipping confirmation email with a tracking number, enabling you to follow your package as it travels to your doorstep.
Note: During peak seasons, holidays, or promotional periods, there may be slight delays in processing and shipping times. We appreciate your patience and understanding during these times.
Contact Us: Should you have any queries or concerns regarding your shipment, please do not hesitate to contact our customer service team at support@allstarterminals.com